admin@fireandsafetycommuity.com 011-45610104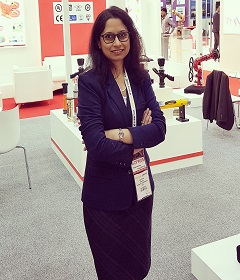 Mrs Sujal Shah Sheth
Director
NewAge Fire Fighting Co Ltd

Mrs Sujal Shah Sheth
Published on: 03-May-2019, 11:36 AM
Q. What are the growth prospects for Fire Protection Industry in India?

According to a market research Indian Fire & Safety Equipment Market in India will grow to 8% by 2021, due to the Increasing Government Focus Towards Industrialization –Our growth prospects seem to be tremendous in the Fire Safety Market, which is due to the increase in awareness of Fire Safety Services. Recently, new rules regarding Fire Safety Requirements were incorporated in the National Building Codes owing to which, installation of Fire fighting Systems has become mandatory. I perceive this as a big positive for the industry as a whole.
According to the report - "India Fire & Safety Equipment Market Forecast & Opportunities, 2019", the fire & safety equipment market in India is expected to grow immensely over the coming years. The market revenues of India's fire & safety equipment market are expected to reach USD 4.94 billion by the end of 2019. The market is set to experience radical growth over the coming years as a result of increasing customer awareness regarding fire safety, security and asset management coupled with implementation of strict state level norms on fire safety. The ambitious target of the government to build 100 smart cities over the next few years will be a driving force along with the "Make in India" initiative that is going to garner focus on the companies like NewAge have their manufacturing facilities situated in India. A seamless fire fighting safety system is going to be a focus point for Smart Cities initiative of the government. Government will bring and promote the installation of internationals standards.
Q. What is the strategy you are following to tap the Indian Fire Protection Market?

We strive constantly to create awareness about our diverse range of fire fighting equipment. Our customer centric approach helps us to reach out to maximum number of people, enabling us to expand our existing portfolio of End-Users, Contractors, and Distributors. The desire and need for a better fire safety facilities is the enabling force behind our consistently growing user base.

Q. How is the market responding to the products and services offered by NewAge India?

I feel proud to say that NewAge has been in the market since the past five and a half decades and has been successful in creating a strong brand presence by providing best quality products to our customers. This has in turn enabled us to deliver strong growth, consistently. Our experienced team in the Customer Relations department help us to be in constant touch with our customers. This provides an idea of the overall customer satisfaction levels and acts as a catalyst for our growth.

Q. Which are the some of your pioneering products you produced in the market recently or any plans to launch the new products?
Ans. We have invested significant amounts of time and money in expansion of our infrastructure and manufacturing capabilities. We recently started manufacturing large diameter hoses. Up until now we were only manufacturing hoses of 6" diameter but now we also have state of the art hoses of 12 " diameter. It is extremely important in today's hyper competitive market, to keep the pace with the changing trends. Our sustainability model is to constantly innovate and work hard to bring out new products and new approvals. Our product and solution development team at NewAge constantly endeavors to bring out new solutions and innovative products against the current challenges of firefighting scenario. One such product we recently launched is the self-sufficient ULTRA HIGH PRESSURE WATER MIST MACHINE. We can have inbuilt tank and compartments for housing the hoses and fog gun. Apart from that, we are also launched a new range of NOZZLES and PORTABLE FIRE PUMPS. We have secured UL approval on foam branch pipes, which makes us the only company in Asia and second company in the entire world to have this certified product in our range. We have certain other projects in the pipeline too, our R&D team constantly works on improvements and new product designs which helps us in maintaining our place in market as top manufacturers in the industry.

Q. What are the key CSR initiatives by NewAge India?

We at NewAge believe in being part of an ecosystem that thinks it is not an obligation but the duty to contribute to the society. We also encourage our peers and partners to do the same. We have successfully been carrying out social services like organising Blood Donation Camps, raising donation for school going children, providing Donation for Cochlear Implant Operations for the children suffering with hearing impairment and also to Orphanages. It gives me immense pleasure to tell you that one of our Directors has dedicated a good amount of his time in social service activities.
Q. Please brief us about the quality policy of your business.

At NewAge Fire Fighting Co Ltd, when it comes to protection of people and property from fire, there is no scope for error because we believe it is our responsibility to be the good stewards. We believe that safety comes first and it is our duty to provide protection against fire. We follow a strict quality control system that helps to provide best quality products to the customers.
Q. The slump in oil prices has triggered a lull in demand for new petrochemical plants – fire fighting equipment systems requirements has also slowed down immensely, what is your strategy across the world to overcome these turbulent times?

Well it is a known fact that the oil prices are a driving factor for the fate of our current projects. Apart from petrochemicals, NewAge has its presence in many other sectors. We have a very strong presence in the commercial market of building and construction, which is witnessing strong demand . The rapidly expanding IT and retail markets across the country have significantly contributed towards the growth of the fire & safety equipment sector. This trend is likely to continue over the coming years. Our operations in diverse sectors - municipal services, navy, aviation and other industries keeps us engaged in bidding for a large number of projects.

Q. What are the latest awards won By NewAge Fire Fighting Co Ltd ?

Having an experience of 57 years, NewAge has been exporting its equipment from 47 years and has already expanded its reach to around 60 countries. We are registered and active members of various promotion councils. NewAge has been a regular recipient of export excellence awards from Engineering Export Promotion Council (EEPC) and other like platforms.

Recent Posts